Welcome to the one and only budget accommodation right on Fistral Beach. We are a family run Backpackers who offer a clean, friendly, and very informal home for all Surfers and Travellers.
Click here for news on the Fistral Backpackers Surfing Contest 2003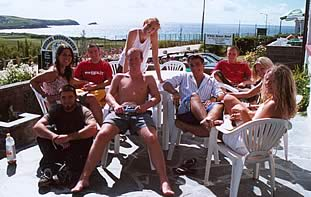 We are situated on the famous Fistral Beach, nobody can offer the same unobstructed views of the surf, take a look at the shot below and see it for yourself.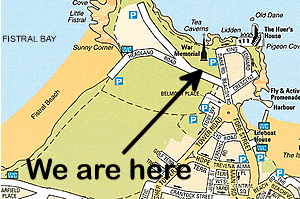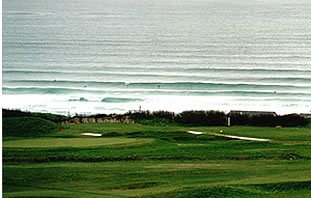 The Backpackers is run by local surfers and international travellers with all the information to make your stay unforgettable. We offer everything the travelling surfer could possibly need.
Roger is an experienced surfer, ( a former member of the English Surfing Team) who has surfed Fistral and all the other local surfing beaches since he was at primary school as well as many locations around the world. John has backpacked in over 40 countries and knows by first hand experience what makes a home from home while on your travels.
Along with Roger's wife Claire, another experienced surfer, we are dedicated to making your stay with us a memorable one. We are happy to make time to chat, advise and share knowledge with you. Which is the best beach for a beginner today with an offshore, easterly wind? Do you know a good backpackers to stay in the Cook Islands, Malawi, New Zealand, Vietnam, Namibia, Delhi, North Shore Oahu El Salvador etc. etc.
We are recommended by The Lonely Planet Travel Guide to Britain and we were featured on Rapture TV as the place for surfers to stay in Newquay.
All the rooms have superb views of Fistral or the Newquay Bay Area.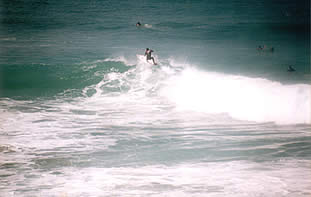 Imagine waking up with the sun pouring through your window, you get out of bed, check the surf through your window, Fistral is going -off, 4-6ft and offshore with no one out yet.
You come downstairs, make some breakfast, sit on the sun balcony checking the line up . You then suit up and hit the water before anybody else, what a start to the day.
You surf twice more during the day. In between surfs you hang out playing pool, watching satellite TV or just chatting with friends.
The night time comes and you relax watching a choice of over 100 of the latest bodyboard and surf videos on our 41″ TV or go out and have a blast in one of Newquay's many pubs and clubs.
This is our life and we hope you can come and join us in living the dream.
"Come and join the GENUINE backpackers experience"
Fistral Backpackers, 18 Headland Road, Newquay, Cornwall, England, TR7 1HN
Telephone: Office +44(0)1637 873146, Residents +44(0)1637 852100,
E-Mail: [email protected]
Web Site Design and Maintenance by Quintdown Web Ltd